Virtual IAS Fellow, October-December 2021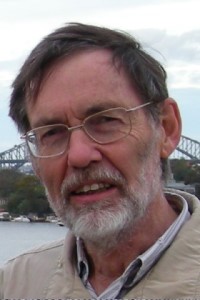 Alan Atkinson writes mainly on Australian history.  His first degrees were from the Sydney University, followed by an MEd from Trinity College Dublin and PhD from the Australian National University.  He taught first in Western Australia universities before spending 27 years at the University of New England in northern New South Wales.  While at UNE he was a visiting fellow at ANU, at the universities of London, Cambridge and Melbourne, and a senior Fulbright scholar. He was meanwhile promoted to a personal chair in History, and finally to a five-year Australian Research Council professorial fellowship. He is a Fellow of the Australian Academy of the Humanities, has served on the Australian Research Council and has been an invited speaker in England, Canada, New Zealand and the US.  He now holds honorary positions at Sydney University and UWA.
He has written nine books and jointly edited two.  His first monograph, Camden: Farm and Village Life in Early New South Wales, was a local history using comprehensive family reconstitution and it won the Victorian Premier's Literary Award and the Ernest Scott Prize for Australian and NZ history.  The three volumes of his bigger book, The Europeans in Australia, have together received the Ernest Scott Prize (twice), the Trevor Reese Memorial Prize (Institute of Commonwealth Studies, London University), two NSW Premier's awards, a National Book Council award, the CHASS Australia Prize and the Victorian Literary Award (the largest of Australia's book prizes).
In the 1970s Alan Atkinson helped to pioneer social history-writing in Australia, partly with work on the early convict system, including an article in Past and Present on American and Australian experience.  Later he led the way in setting out the importance of religious faith for the national story and in defining debate about sound and voices in the Australian past.  His work tends to be ethnographic and relationship focussed, and he has been called "the first male historian in Australia to take 'gender' seriously as an analytical category [for the entire national story]".  In 2014 his work was the subject of a two-day conference at ANU and in 2015 Sydney University gave him an honorary DLitt.
He has lately taken up the slippery problem of expressing subjectivity in the past, "I" as a parcel of memory, habit, physical circumstances and conscience.  In this he expects to profit enormously from interdisciplinary work at Durham, with the "Representing Memory" project.  The discursive framework for his current project is home, community and public life, tracking connections among those three domains via the records of one early NSW family.  At Durham he will also pursue long-standing work on Stockton-on-Tees during the late Enlightenment.  In both projects the new insights of cognitive history (the "extended mind" and so on) seem to open up some especially promising lines of inquiry.