IAS Fellow, January-March 2022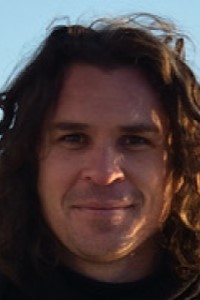 Daniel Blinkhorn is a composer, sound and digital media artist currently residing in Sydney, Australia. His compositions gravitate around electroacoustic, biomimetic, and environmental sound composition, often coupled with technology and acoustic instrumentation.
Dr Blinkhorn is a 2011 Churchill Fellow, and 2010 ABC Radio National Media Arts Fellow, and has worked in a wide variety of creative, academic, research and performative contexts. He has taught at a number of Australian university's including the University of Technology (UTS) Sydney, the University of New South Wales, the University of Wollongong, and the Academy of Music and Performing Arts before undertaking his current post as a lecturer in Composition and Music Technology at the Conservatorium of Music, University of Sydney.
As part of his tenure Dr Blinkhorn continues to pursue his research interests within electroacoustic music and environmental sound, whilst coordinating and convening a number of units within the composition program. Although entirely autodidactic in electroacoustic music and digital media, he has formally studied composition and the creative arts at a number of Australian universities including, COFA – UNSW and the University of Wollongong where his doctoral degree in composition was recommended for special commendation.
Dr Blinkhorn has undertaken over 15 artistic residency programs internationally, including ZKM (Germany), CMMAS (Mexico), La Muse en Circuit, Centre National de Creation Musicale (France), Visby International Centre for Composers(Sweden),  EcoSono Institute for Environmental Sound Art and Acoustic Ecology (West Indies), Centre d'arts Orford (Canada), and Arctic Circle (Svalbard). Some of his scholarly and artistic invitations include visiting scholar and artist, Music Faculty, University of Virginia, the Conservatory of Music and Dance, University of Kansas City Missouri, Simon Fraser University, Vancouver and faculty member for 'Ecosono Alaska', a joint initiative between Ecosono Institute and Alaska Pacific University, Anchorage. His published output includes a wide variety of of publications in journals (MIT), industry magazines (DPA Microphones), books (LAP) industry periodicals (Music Australia) and type- setting (Lighthouse Publishing) and he's delivered masterclasses at a number of institutions, most recently Musiques & Recherches (M&R) Belgium, 2020 (where his music was also presented in a special portrait concert). Dr Blinkhorn's works are increasingly performed, exhibited and presented internationally, and his compositions have received over 40 international and national composition awards at prestigious competitions.
Through his compositional and research output, his work ultimately seeks to embody a strong sense of biomimetic agency by observing ecological sensitivities, the vitality of natural sound and the naturally ordered continuities binding habitats of sound, place, people and space together. He hopes to develop a more expressive compositional language through combining artistic/ scientific knowledge, where the benefits will be multitudinous in uncovering more substantive ways of interpreting the balance between natural ecosystems and humankind.
Dr Blinkhorn intends to work in collaboration with Durham scholars within Music, Bioscience and Geography as part of the Exploring Arctic Soundscapes initiative, examining critical areas of research posed by the ''Exploring Arctic Soundscape' project. During his time within the fellowship program, anticipated outcomes include the creation of a number of chamber works for instrumental ensemble, electroacoustic/ ecoacoustic music and audio-visuals. Critically, the dimensions of the fellowship program will provide the perfect foundations for Daniel to more fully explore manifold creative processes when composing new works, whilst simultaneously fostering new partnerships with fellow academics and creative artists at an international centre of excellence.'